Spring time in Oklahoma means breaking out the weather bingo and watching the show unfold on TV, right? In part, yes, but when you're on the receiving end of storm damage, we need to know what to do! Since insurance is a contract, if your property has sustained damage, there are actually some things you are obliged to do. As your independent insurance agent, we are here to help guide you through the process. To get started, here is what the policy contract language looks like with one of the companies we work with, Safeco.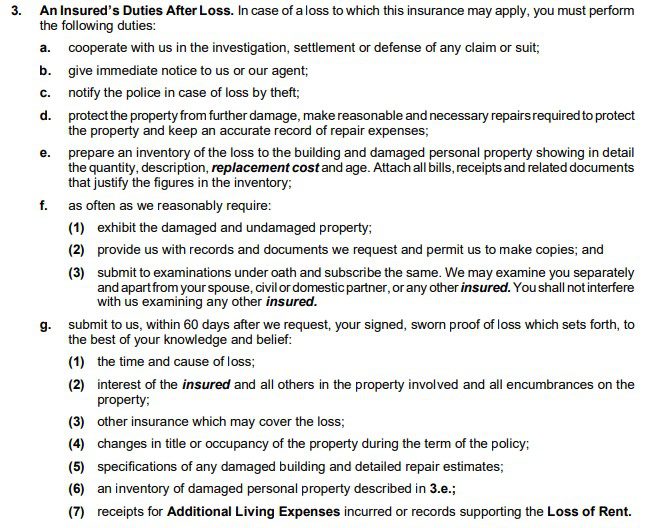 After a storm event, pay especial attention to 3B and 3D. Even when you've experienced storm damage, it is important to take it measured steps. The first thing you need do is most imporant.
Call your independent agent!
We will help you through the steps. Starting with a key immediate step if damage was significant.
If the damage was significant, you MUST take immediate action to prevent further damage.
As you can see under 3D, you are obligated to protect your property from further damage (like boarding a broken window, or using tarps to protect from falling rain) and keep a record of those expenses. If your claim is valid, you will be reimbursed for those costs! Further damage incurred may not be covered by the policy or it may be subject to different limitations, especially if water damage is involved. Once you take the temporary repairs step, or if you are unsure if that is necessary, consider the next question.
Did my house suffer damage greater than my wind/hail deductible?
In Oklahoma, we have separate deductibles for storm events like wind and hail. If the damage was minor or less than the cost of your deductible, it is wiser to conduct the repair out-of-pocket. It can be difficult to self-estimate the cost of repairs. If you are unsure of the scope of damage, we recommend contacting a roofer or contractor.
Request an inspection by a roofer or contractor who would repair the damage.
Their inspections are usually free. With their professional experience, they will advise you of probable cost of work. If their estimates exceed your deductible and your financial ability to work out-of-pocket, now is the time to call in an adjustor. Why this step?
Reporting a claim that is declined by you or the insurance company shows on your claims history.
Not doing so can make keeping your rates low complicated. As independent agents, we have the ability to shop your coverage with different companies to make sure your rates and coverage are the best they can be. When there are multiple $0 claims on your history, it can complicate moving your business, and some companies may even decline to write the policy.
That is why it is always best to talk to your independent agent first. We will always guide you before formally filing claims with your insurance company.
Have you had a claim? Or are you considering quoting your coverage?
Give our agency a call. We serve Oklahoma and neighboring states with local agencies in Blackwell, Ponca City, Stillwater, and Edmond. Reach any one of our locations by our toll-free number at 800-725-3434 and we will transfer you to an agent who can help. Want us to call you? Use our contact form and we will reach out ASAP.