It is no secret that the Oklahoma weather can get wild. We've seen our fair shaire of severe weather for Oklahoma. It's been bad enough sometimes, that I hesitate to write about it without knocking on wood. That aside, it's time to talk about the claims process.
We are right there with you when the weather-weariness sets in — alerts hitting our phones, television screens, and radios. The ambiguous worry of a "50% chance of severe storms" makes us reconsider our plans too. Sometimes it feels like there isn't anything we can do. But as your local insurance agency, we are here for you. Here is what you need to know while when it comes time to weather the storm.
The Claims Process
There are few things more nauseating than seeing your home damaged by wind, hail, or worse. It's at these times we feel like we have lost all control. Keeping a level head is difficult at this point – and you may just need to spend a moment venting these feelings. Once you have regained your wits, here is what you do when your home has suffered damage.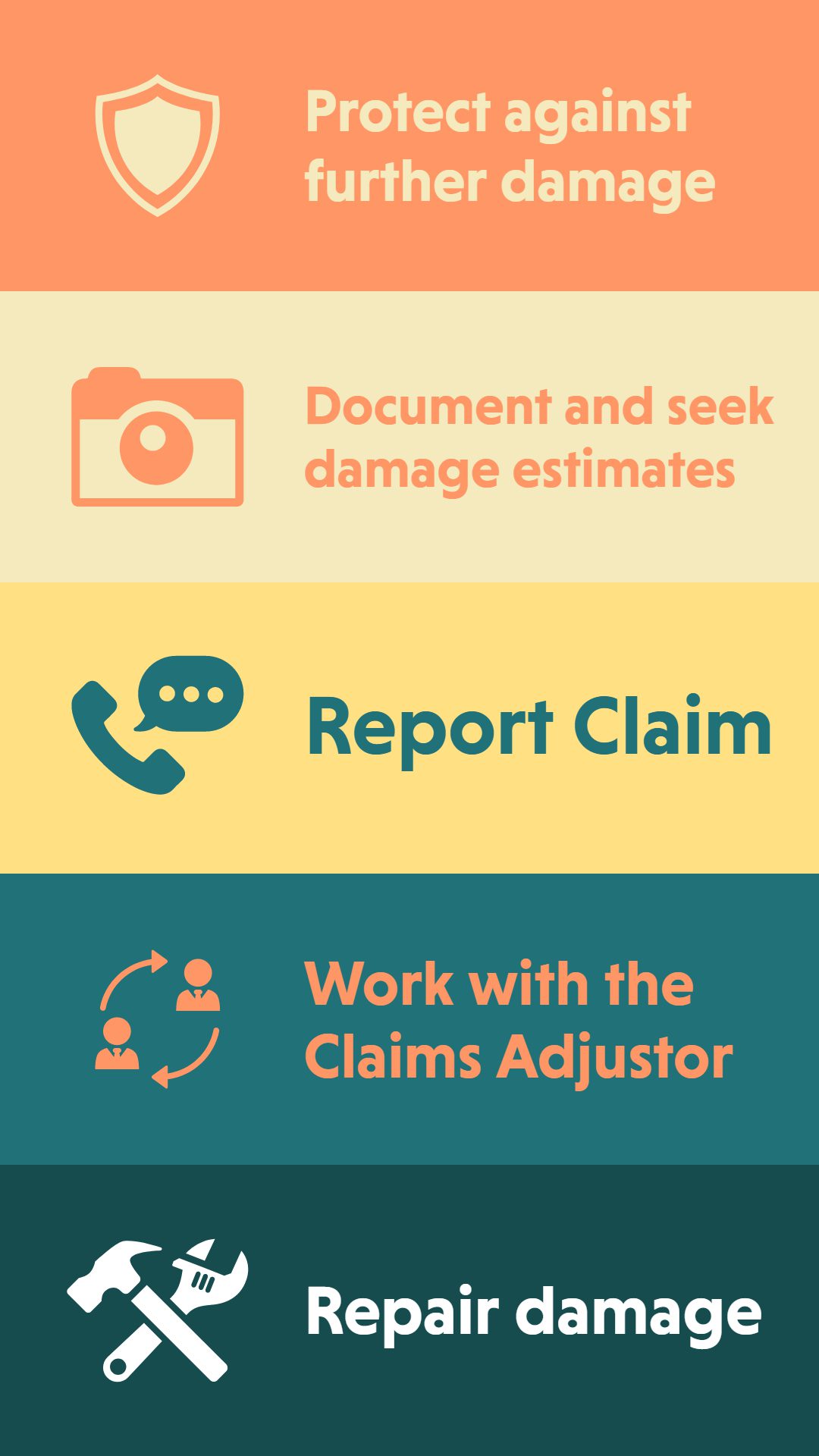 Protect from further damage.

The damage sustained is bad enough. If there is a hole in the roof or wall, getting it covered up is a first priority. Your policy may reimburse you for measures you take to protect your property. When wind or hail breaks through, the last thing you'll want is water and mold adding to the damage. Patch what you can. Once you do this, or if you need help from a contractor, move on to step 2.

Document and seek damage estimates.

If temporary is too difficult or risky on your own. Call a contractor to help. Document the damage to your property, take pictures, identify your personal property (belongings, furniture, etc) that is also damaged, note the date and time. Your contractor will estimate the damages to your house. Once you have all of this information together, move on to Step 3.

Report the Claim

Contact your insurance agent or report to the insurance company directly. Provide us the estimates and documentation you have gathered and we will help you report the claim and advise you on what to do next. Here's are some ways you can report your claim:

Work with the Claims Adjuster.

Your insurance company will assign a person called a Claims Adjuster to help you work through the claims process at this stage. They may produce their own damage estimates. If they differ greatly from yours, they will work together with you to reconcile differences and agree on how to begin repairs.

Repair Damage

Finally, repairs can begin. If your house is not habitable while repairs are underway, your insurance may provide reimbursement via the Loss of Use or Additional Living Expenses coverage. This is money available to you for room and board, food, and other incidental expenses to help you maintain quality of life.
We're Here to Help
If you have any questions about the claims process, or if you need to report a claim, contact us as soon as possible. We will do our best to help you.